This review contains spoilers.
Magic Strikes by Ilona Andrews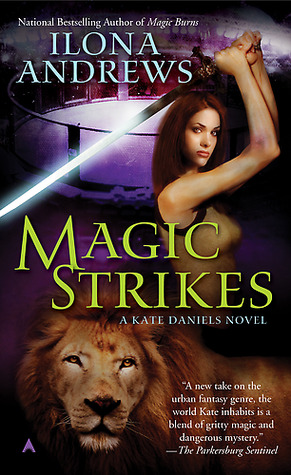 Genre : Urban Fantasy
Date Started :  July 22, 2015
Date Finished : July 23, 2015
Description: You can read the full description from the author's website. This is the 3rd book in the Kate Daniel Series.
I am in love with this series and I'm finding it incredibly hard to not read ahead of my book club. Everything about this series has me hooked and ready for more. I'm usually that person who would skim the fighting scenes but not in this book. There is so much action in this book and it flows well. This book is about Kate getting pulled into a world of underground arena/gladiator style fighting.You read that correctly, gladiator style fighting, and apparently this is not her first time in this style of fight.
Much to Kate's frustration she finds herself caring for a lot of people. I don't mean caring for a sickly relative, I mean friends. Kate's always been told to trust only herself and to not make friends. This is a constant struggle for Kate, especially as her bond grows with Andrea, Derek and the pack. Kate has a big heart, she can't help it. So when she gets a call to help with a pack death and is told they don't need her help, she is slightly uneasy. It's not her job and if they needed help they would ask. After one of the longest days ever, she goes home and is in fairly good spirits because she knows she has 1 slice of pie left. Kate's super excited about the pie, it's sort of hilarious.
Kate gets a call from Saiman, informing her that Derek broke into his house. It's Kate to the rescue and she finds out that Derek is after tickets to the Midnight Games. Kate negotiates Derek's release but is then pulled into going with Saiman to the games to help him evaluate a team competing. Derek uses this chance to ask Kate to give someone at the games a note, a girl someone. Kate is suspicious but thinks Derek just has a crush on some girl.
During the first night at the games, Kate learns that the girl Derek is looking for wants to leave the cult/group she joined, the same group that Saiman wanted Kate to evaluate. The girl will give the pack information if they help her escape. Kate reads the note after the girl throws it away and discovers that Derek has arranged a spot to meet. Too bad the girl turns on him and Derek is left outside one of the packs properties and is severely beaten. It's really bad and it made me feel so strongly for this kid and so much anger to the ones who hurt him. Derek may act like a man but before this incident, he was just a teenage smart ass with lots of confidence.
Jim and his group of guards hide Derek and the other bodies from Curran. Derek is in bad shape and they think he might go loup. Kate learns that the pack has been hiding it all from Curran. Turns out that Curran's rule number 1 is the pack is forbidden from participating in the Midnight games after what happened when he took over. Jim has been investigating and has an inside man in the games and thought Curran would not understand.
Things are super tense and Kate, because she is awesome, makes a comment to Curran telling him that her and Jim are running away together. Of course, Curran gets pissed and it's hilarious. The tension between Kate and Curran was fantastic in this book. Curran and Kate make a bet, if he can find her and the pack members before the pack grace period is up, she has to cook him dinner, naked. So much tension! Curran does find them, of course but she traps him in a loup cage and tells Julie not to let him out before the hour is up.
The pack wants revenge on the group that has been killing pack members so Jim, a few pack members, Kate and Saiman entering the Midnight Games. Lot of great fighting scenes happen when they are at the games. We discover Saiman's true form, get to see Jim, Derek, Kate, Andrea, Raphael and Dali (a clumsy partially blind tiger) fight together. Shit hits the fan though when Curran, Mohan and Aunt B. show up at the Games. Curran replaces Saiman on the team and they end up kicking major butt.
We end up learning that they are dealing with mythological figures from India, who somehow have tricked M-scanners to think they are human. The bad guys in this book eat the pack members they take and want to steal the prize gem from the Midnight Games. This gem can cause the shifters to not shift and they want to use it to destroy the pack. We find out a little more about Roland and how he is connected to this group of mythological creatures and how the pack is growing too large for Roland to ignore anymore. We also learn Kate's big secret and exactly why she is so worried about her blood. She shatters a weapon that can only be destroyed by Roland himself, which basically announces who she is.
Everything that happens to Derek in this book made my heart melt and you know his character has been forever changed. Julie's school experience and how Kate handles what the kid is going through is completely heart warming. And now we just need to wait to see how Kate and Curran's naked dinner turns out. Oh wait, I think Curran said she could wear underwear that he picks out.
This book had me hooked. We learned so much and experienced a lot of important story building events.  It was really hard not reading ahead so I'm giving this book 5 stars. I would read it again and again and it only reinforces my love for all things Kate Daniels.
Tangled Taurus Book Review Rating 5 Stars