This review contains spoilers. 
Burned by Karen Marie Moning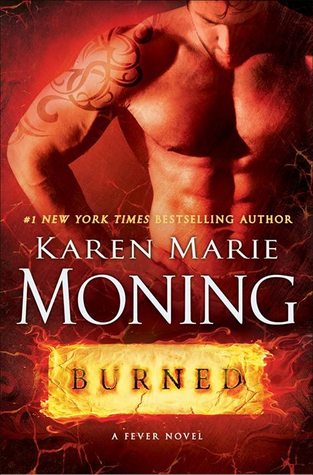 Genre : Paranormal Romance – Urban Fantasy
Date Started :  July 5, 2015
Date Finished : July 10, 2015
Description: You can read the full description from the author's website. This is the 7th book in the Fever series.
Not a lot happens in this book and it was a let down compared to all of Moning's other books. I still love the characters and the world and had a blast reading the dialog between characters and internal dialog but the story was just sooooooo boring. I kept reading thinking, is something going to happen and when is Dani coming back? We hear more about the story of the Unseelie King, the song of making and his concubine, but nothing worth knowing, yet.
Dani disappears into the mirror world or Shadows or whatever they call it pretty early in the book and stays gone for 75% of the book. I never realized how much I would miss Dani's annoyingness, is that a word, until she was gone. Dani made things interesting and exciting because she was always rushing into things. Yes it was frustrating early on but it kept the story moving and me hooked. As soon as the smart ass, fast talking fast paced kid was gone, the plot slowed down to a slow crawl. I knew that Moning had to age Dani and had wondered how she would do that. I NEVER expected Moning to do it this way. I feel like the new character introduction was not surprising at all but multiple personalities, really? I miss Dani and while I'm starting to like Jada, I want a nice mix of them both and not straight Jada.
While Dani is lost in the other realm, Mac gets a huge entourage she can't get rid of and then literally disappears. Yes she becomes invisible. I have to say, Mac becoming invisible was one of the best parts about this book. It's Mac, you know she is going to do things she should not and see things she should not. Sneaking around Chesters and following Ryodan around, watching certain someone's making out and getting it on. I enjoyed Mac in this book, she was fantastic. Her and Barrons bickering back and forth at the most inappropriate time. They were great. Still a little mad at Barrons for what he did to Mac and hope they make up.
Other happenings, Unseelie Princesses, who should not exist pop into town. Jada takes over the abbey when Kat disappears. Kat's being helped by Ryodan and Kasteo. Lor pretends to be pri-ya in order to get laid. Jada doesn't have her Sword, still have no idea what happened with that. They rescue Christian from the hag who he sacrificed himself to in ICED. In the process of rescuing Christian, one of the druids is killed. Towards the end of the book, Mac is sneaking around Chesters and discovers the druid being brought back to life and wonders if they made him like the nine.
Overall I still enjoyed Burned and Moning's ability to bring her characters to life. I'm over the switching character point of views every chapter though. I understand it makes it easier to immediately know who the voice is of the chapter but it seemed unnecessary. I'm giving Burned by Karen Marie Moning a 3.5 stars because it was good and I might read it again, just in the distant, way off and out there future.
Tangled Taurus Book Review Rating 3.5 Stars