This review contains spoilers. 
Shadow of Night by Deborah Harkness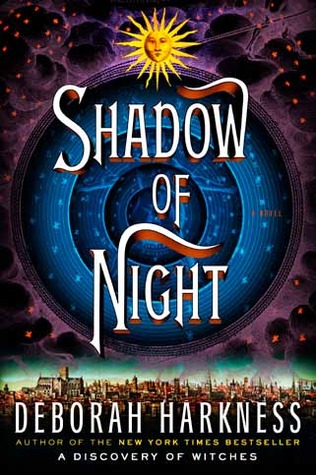 Genre : Romance – Historical – Supernatural
Date Started :  January 10, 2015
Date Finished : May 7, 2015
Description: You can read the full description from the author's website. This is the 2nd book in the All Souls Trilogy.
I really wanted to like this book. I loved the start of the series yet this book felt like a chore. I was expecting a book much like the first one and most of this book was a slow and somewhat boring history lesson. That's not all I got but the entire time they were in London I wanted to fall asleep and dreaded continuing. I was expecting a grand adventure since the whole reason for time walking was to get the manuscript/book and find Diana a witch to help with her powers. I know the reason they traveled back to this particular time but really, can you pick a worse time to travel back in time to find a witch? Maybe a time in history where witch burning and hunts were not all the rage?
Most of the new characters you meet when they first get to the past are either forgettable or highly annoying. I did like his friends that at least tried to make Diana feel welcome. I really liked the stammering Henry, Phillip grew on me and Gallowglass was amazing. I found it heartwarming for Diana to take in Jack and loved watching Jack and Matthew's relationship grow. I also enjoyed Diana taking in Annie and making her feel like part of the family. Even if Annie was meant to spy on them for a vampire. I did not like either of the main characters personality changes when they time walked. Matthew's change of character was way more overprotective and controlling and Diana seemed to get more annoying. I gave some leniency to Matthew because he was a different person in this time period and he needed to keep up appearances. Diana on the other hand knows about time periods and still tries to be a 21st century woman. They each got better the longer they were back in time so that helped, a little.
Another thing I didn't like about this book is how many villains there are. I swear, every time Diana and Matthew were in a good place and sort of happy, some new horrible person pops up to ruin everything. It was incredible frustrating. I know that you need someone to be the bad guy in books but this book was crammed full of people who either wanted to kill them, get in their way or were too nosy for their own good. The bad guy could also be a "friend" who is so drugged on opiates that he kidnaps Diana and plans to kill her to get Matthew back! Ugh I really hated Kit and was not at all sad that he died a horrible death! I still have no idea how Matthew and Kit's talk went and whether or not Matthew forgave Kit like Diana suggested.
The story starts to pick up when Diana finally meets the witches who help her discover what type of witch she is. Learning about Diana's powers was fascinating and meeting the Jewish weaver was pretty cool. The witches Diana meets really made the story enjoyable. I was a little surprised that, even with all the crap they were going through and all Diana's time spent with the emperor's dancer/painter, etc, that she pretty much forgot about studying her powers. I know the manuscript/book was so close and they were focusing on that but it still surprised me.
Towards the end, they finally get the book, after the pages are ripped out of course. When they start preparing to travel back to their own time after spending MONTHS in Elizabethan London, they run into Diana's father. He helps her discover more about her powers, with the help of the witches before he travels back to his time. He also tells Diana and Matthew that the book is going to have to stay back in time. So while they accomplished 1 of their tasks, the 2nd task, the manuscript/book is still incomplete and they have to leave it behind. The bright side, at least they got a chance to see the manuscript/book when it was whole, even for a brief time. They also discovered that the pages that were ripped out might be available back in their own time. The also learn that the manuscript/book is literally made from the flesh of dead supernatural creatures, creepy.
Then we get back to present day and find out Em, Diana's aunt has died. No build up, no real explanation, just died during the birth. I better get an explanation about this in the next book! I also want to know how much trouble their 7 months back in the past effected the present. Every thing I've read about time travel says that small changes can throw the entire future out of whack.
I'm still trying to figure if I liked this book or not. I started reading this book back in January and had to switch to audio because reading it felt like a chore. The woman who reads the audio did a fantastic job and I'm so happy I switched. I would not have finished had I needed to read this book. For me, the main story is interesting and I wanted to know what would happen. The author's description of the past make you feel like you are really there but at the same time, parts of the story felt unnecessary. It's like listening to a friend who has a great story to tell but they won't get to the point.
I've had a hard time deciding on what rating to give this book. If I would have read the book I probably would have given up but the story was interesting enough to find another way to get through the story. For me her writing just didn't engage me enough but I don't feel like this book deserves 1 star. I'm giving Shadow of Night by Deborah Harkness  2 stars.
Tangled Taurus Book Review Rating 2 Stars