This review contains spoilers. 
Magic Burns by Ilona Andrews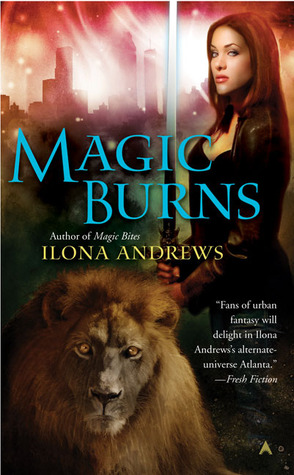 Genre : Urban Fantasy – Supernatural – Paranormal
Date Started :  April 30, 2015
Date Finished : April 30, 2015
Description: You can read the full description from the author's website.
I've read this series before and am even more in love with it the 2nd time around.
This book starts off with Jim asking for back up on a Mercenary Guild gig. Towards the end of this gig, that has spun out of control, Jim gets called away on pack business and their mark is killed. Kate is forced to deal with the body and the object they were supposed to retrieve. She needs both to get the bounty and ends up cutting the head off the guy and grabbing the orb thing. Typical Kate Daniels, fast thinking and resourceful.
After dropping off her bounty, Derek, her amazing sidekick/babysitter makes a pretty simple request from the pack. The pack needs some help retrieving maps that were stolen from them. Sounds pretty simple and straight forward right? If you think about it, not so much. Even Kate questions how something like maps could be stolen from the pack, turns out the thief just disappears. Since Kate has followed in her old guardian Greg's footsteps and has the honor of being friend of the pack, she feels obligated to help. Regardless of how much she wants to stay away from the pack and their leader Curran, she's there to help. This straight forward task ends up putting Kate in the middle of a huge battle that could destroy Atlanta and with no one else there to help, it's up to Kate.
After some investigating and tracking down clues, Kate finds herself tracking the same guy who killed her earlier bounty, a bowman named Bran. Turns out witches who worship Morrigan had their cauldron, a VERY special cauldron stolen from them by Morrigan's greatest enemy. Bran is there to find the cauldron and while he is a pretty cool character, he's also pretty secretive for 75% of the book. The enemy that stole the cauldron is also looking for one more thing and Kate keeps getting in their way. Things happen and they find what they are looking for. There is a magical dome over a part of Atlanta and the bad guys are filling it with an army. Kate, the witches and the pack defend the city in a bloody and brutal battle.
A lot happens in this book and we get to meet a few new characters. We learn more about the magic/tech issues going on. We learn that every 7 years there is a flare and that makes things go wonky for a while. I thought it was interesting that during these flares, the people shut down their operations. Learning about how the vampires are navigated was interesting as well. Made me think of a role playing game but way cooler.
We also get to meet Andrea who works for the order and is a beastkin. Her father was a hyenawere. When Andrea is injured we get to meet Clan Hyena. We also meet Red and Julie, Red is a power hungry jerk so I won't talk about him. He gets what he deserves but you need to read the book to find out more. Julie is essentially an orphan that Kate is forced to take guardianship of. While I found it odd that Kate would form a bond so quickly with the kid, I loved Kate's protectiveness of Julie. I'm assuming this bond is due to Kate's own lack of a mother and her ability to be conscious of other people's feelings. Ok so I just really like Kate Daniels. I love her wit, her bravado, her strength and her attitude. If I had a fictional hero it would be Kate. Speaking of Kate's attitude, we get more banter, fighting and tension filled goodness from her and Curran. I'm reading this series again for my book club and it's incredible hard to stop myself from reading the next book.
Overall this series has to be one of the most enjoyable series and author's I've read. You get great characters, a growing and evolving world, plots that engage and an overall story that keeps you hooked.
I'm giving Magic Burns by Ilona Andrews a 5 star.
Tangled Taurus Book Review Rating 5 Stars