This review contains spoilers. 
Fool Moon by Jim Butcher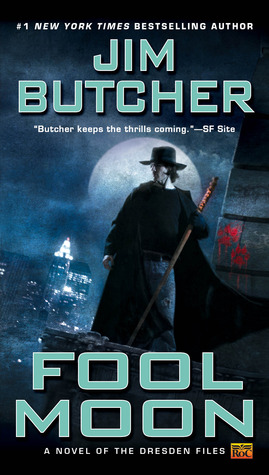 Genre : Fantasy – Urban Fantasy – Mystery
Date Started :  March 23, 2015
Date Finished : April 2, 2015
Description: You can read the full description from the author's website. This post turned out way too long but here it goes.
The gist of the story, a werewolf is killing people close to Johnnie Marcone (Mob Boss) and Harley MacFinn (a loup-garou). The police have a hard time with this one because of the gruesome nature of the crime and the mysterious wolfish paw marks left at the scene. Lt. Murphy even suspects Harry and arrests him. Things get worse from there and lots of people die. Harry almost dies multiple times and it's hard to trust anyone. In the end everyone ends up at Johnnie Marcone's mansion because that's who the bad guys want dead.
After what happened in the first book, Harry isn't expecting to hear from Lt. Murphy anytime soon. That changes when bad things start happening in Chicago and the police are at a dead-end. In an attempt to figure out who is murdering people in a gruesome way around the full moon, Lt. Murphy reaches out to Harry as a last resort.
A few things happen here, we meet a group of FBI agents who have been following these killings and don't want any help from the local police. After a tense moment between Lt. Murphy and one of the FBI agents, Harry and Lt. Murphy leave and are followed home. Harry not wanting the trail to go cold and assumes this will help with the case, follows that person. Here he finds a gang of teenagers who can turn into wolves. You would think, well that's too easy and it is. Harry doesn't think this group could have done the killings and tells Lt. Murphy that exact thing. Lt. Murphy doesn't believe him though, no big surprise there!
Harry also tells Lt. Murphy all he knows about werewolves and the types they could be up against. I found this information pretty cool and it was interesting to hear about the different types of were's in Harry's world. What I didn't like was that we got to meet each type he tells Lt. Murphy about. Do we really need to experience each type in one book? It seemed excessive to me. While at the police station, Harry also gets a tip from one of the FBI agents about a gang that they think might be involved, the appropriately named Streetwolves (a pack of lycanthropes). Harry foolishly checks out this group, by himself and ends up challenging the Alpha of the gang. He escapes of course, but now Harry needs to watch his back not only from the teenage gang who turn into wolves but now from the Streetwolves as well.
Johnnie Marcone also attempts to hire Harry to protect himself because he suspects he is the next one to be killed by the killer. Of course Harry declines but it still doesn't help with his image. Marcone does help Harry by giving him information and a possible connection to Harley MacFinn and the Northwest Passage Project. At this point in the story we get MORE information which could be true. Harry summons a demon to get information on Harley but the demon ends up baiting Harry with information about his parents and how they really died which was almost more entertaining than the story we are currently involved with. This interesting tidbit gets shelved for another time though because Harry has more pressing matters to deal with. Although it does get brought up sometime later when Harry is unconscious and talking to his subconscious, great scene!
Before Harry can question Harley, Lt. Murphy arrests him for the death of Kim, who Harry helped in the first book to understand her powers. Tera, the woman who followed Harry and led him to the teenage gang, the Alpha's, ends up freeing Harry in order to help her contain her fiance, Harley, before he can hurt anyone because he is a loup-garou. Before Tera and Harry can get to Harley, Lt. Murphy arrests him, going against Harry's advice and at moon rise Harley changes and kills a ton of police. Harry shows up to try to contain him but only drives him off.
So we have a loup-garou who is on the loose and a pack of lycanthropes, the Streetwolves, trying to kill Harry. While Harry is trying to track down Marcone, he is attacked by the Streetwolves and finds out he was set up by the FBI agents who happen to be hexenwolves and are the ones behind all the murders. So now Harry and the Alpha's take off to save Marcone from Harley and the FBI. This can't be easy and to make things difficult, both Harry and the Alpha's are captured once they reach Marcone's mansion.
Here we find out that the ones who Marcone thought were there to protect him, end up using him as bait to catch and kill Harley, the loup-garou. Harry and Murphy escape and end up fighting with the FBI agents and taking the belts that make them hexenwolves and destroying them before the police show up. The Alpha's escape with the help of Susan, the reporter and Harry's sort of girlfriend. Oh and we find out in the end that Tera is a wolf who turns into a human. SO. MUCH. INFORMATION.
In the end we find out that the FBI agents have planned this whole mess to eliminate Marcone for good but the power of the belts over took them. I will say that the scene with Harry wearing the belt and transforming was excellent. It really helps you understand the loss of control the agents had and how much of a drug it really was to them.
One thing I really love about this series so far is Harry. Yeah he has bad things happen to him all the time and he is down on his luck most of the time but he truly behaves like a hero even if he doesn't feel like it. Overall I enjoyed the parts of the story that I HOPE will be more meaningful later. I loved the characters and it kept me hooked but I felt like there was too much happening. I don't think this is a book that I will read again but the writing is good and I like where the story seems to be going.
I'm giving Fool Moon by Jim Butcher a 3.5 star.
Tangled Taurus Book Review Rating 3.5 Stars
.