Revenant by Larissa Ione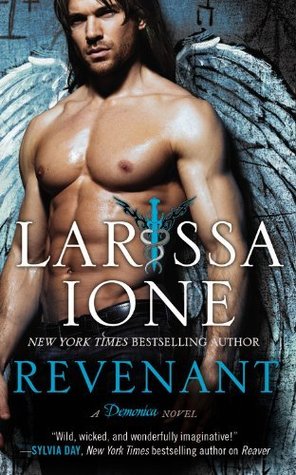 Genre : Romance – Paranormal – Supernatural – Urban Fantasy
Date Started :  March 2, 2015
Date Finished : March 3, 2015
Description: You can read the full description from Larissa's website.
I absolutely love this series and liked the way Ione ended it, satisfying end and wrapped up. Revenant is the sixth and last book in the Lords of Deliverance series and eleventh and last book in the Demonica series. This book is about a fallen angel, Revenant who gets his entire world turned upside down when he learns that he has a twin brother, he really is an angel, not fallen and he gets his memories back. He struggles with this information, especially since he is pushed away by his twin and heaven doesn't seem to want anything to do with him. Rev is in a tough place because he wants to be welcomed into heaven but he is stuck with the taint of Satan. He might be the 2nd most powerful thing in hell but he still has to partially follow Satan's commands. Now that he knows who he really is, he struggles with the guilt of being the evil fallen angel he used to be. Then he meets Blasphemy and it becomes even more difficult to do what Satan wants.
I enjoyed both of the main characters in this book. Ione creates such fantastic characters, both the good guys and the bad guys. I stared this book thinking, how the hell is Ione going to get Rev out of the mess that is his life and then how is she going to keep Blasphemy alive. The odds were against them both! Both main characters don't really have a place in the world.They are lost and torn between the worlds they live in, with no place they feel like they can belong. Both struggle with trust, which is understandable because the world has been a hard place for them.
There are so many good characters to talk about but I'll stick with the two mains. So Rev, oh boy was his life and path filled with horribleness. His early life growing up and what he had to do was heart wrenching and painful to think about. I felt sad for Rev's twin, Reaver in the last book but holy hell, Rev's life was so much worse. I mean the poor guy was literally living in hell.  After all that we have learned in this series about Lucifer, Satan and hell, we know his life was horrific. I'm glad they did not get too graphic about his experiences growing up because we already know from previous books what it can be like. While I was reading, I felt like Rev and Reaver had a similar dynamic to Sherrilyn Kenyon's Acheron and Styxx. Although I did not come into this book with the same amount of dislike I had for Styxx.
As for Blasphemy, I loved her but was sort of disappointed that she was not involved with more of the action. She seemed like a strong character. Even though she doesn't know who she really is (because she's been living as something else) she has standards and a moral code. Especially since her cover is of a slutty false angel and keeping up that appearance didn't turn her evil or make her start acting like a fallen angel. I just wish she would have been involved with saving herself more. All the other females in this series seemed to take a more prominent role in the solution than Blas did and that was disappointing. I did like how Ione slowly revealed who Blas was throughout the story. It was interesting to read about what she was and to learn about the ritual her mother completed to hide what Blas really was from the angels who would kill her because who she came from.
As for bad guys. I forgot how much I hated Gethel and Satan, serious psychopaths. I feel like the solution to getting ride of the bad guys was sort of pulled out of left field because I didn't remember much about the prophecies mentioned in this book or previous ones, but I liked what Ione came up with. Also, a certain Angel gets what is coming to him!
I truly love this series and enjoyed this book. Although I feel like this story was focused more on the whole picture/wrapping up the series than being focused on developing Rev and Blas's relationship. I would have liked to see a deeper relationship developed but I think that would have crowded the book. Regardless of what it didn't have, Revenant was a can't put it down book for me, the humor, the story and the characters had me hooked and I'm giving it 5 stars. I can't wait to read it again even though I have plenty of other books to read. Maybe I'm just missing the Demonica series now that I know it has an end.
Tangled Taurus Book Review Rating 5 Stars